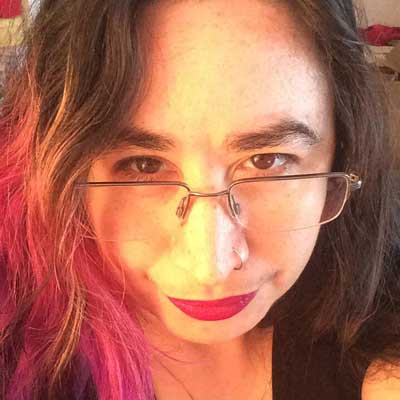 Rebecca Gibson, Ph.D.
Teaching Assistant Professor
anthropology
Bio
Rebecca Gibson is a Teaching Assistant Professor at Virginia Commonwealth University, in the Anthropology Unit of the School of World Studies. She holds a PhD in biological anthropology from American University, a joint MA from Brandeis in Gender Studies and Anthropology, and two BA degrees from Indiana University South Bend in History and Philosophy. Recent publications include The Corseted Skeleton: A Bioarchaeology of Binding (2020) and Global Perspectives on the Liminality of the Supernatural: From Animus to Zombi (2022). Her research interests are many and varied, ranging from robot/human sexual interactions, to gender and the supernatural, to corsets and skeletons. When not writing or teaching, she can be found reading mystery novels on a pile of stuffed animals, with a warm cup of tea.
Selected Publications
Gibson, R. and VanderVeen, J. M. Eds. (2022) Global Perspectives on the Liminality of the Supernatural: From Animus to Zombi, (under contract, at Lexington Books)
Gibson, R. and VanderVeen, J. M. Eds. (2021) Gender, Supernatural Beings, and the Liminality of Death: Monstrous Males/Fatal Females, Lexington Books
Gibson, R. (2020) The Corseted Skeleton: A Bioarchaeology of Binding, Palgrave Macmillan
Gibson, R. (2019) Desire in the Age of Robots and AI – An Investigation in Science Fiction and Fact, Palgrave Macmillan/Palgrave Pivots
Gibson, R. (2022). Beyond the Bride: How Varying Finalities of Death in Bride of Frankie Complicate the Frankenstein Genre's Approach to Gender. In Woomer, A, Ed., The Feminine Macabre: A Woman's Journal of All Things Strange and Unusual, Vol. 4.
Gibson, R. (2022). 'Blood Stays Inside Your Arteries, Dlique:' Aliens, Cyborgs, Death, and Tea Ceremonies in Ann Leckie's Imperial Radch Trilogy. In R. Gibson and J. M. VanderVeen, Eds., Global Perspectives on the Liminality of Death: From Animus to Zombi (pp. 161-182). Lexington Books.
Ocobock, C., Niclou, A, Loewen, T., Arslanian, K., Gibson, R., Valeggia, C. (2021). Demystifying Mentorship: Tips for Successfully Navigating the Mentor-Mentee Journey. American Journal of Human Biology, Vol. 34, Issue S1, 1-17. https://onlinelibrary.wiley.com/doi/epdf/10.1002/ajhb.23690
Gibson, R. (2021). From Fake Cop to Real Blade Runner: A Tripartite Comparison of the Role of Androids and Replicants as Laboring Beings. Journal of Popular Culture Studies, Vol. 9, No. 1, 97-116. https://www.mpcaaca.org/_files/ugd/5a6d69_12904e7b529b4f118fd4acba5641e713.pdf?index=true