Why World Studies?
In the School of World Studies we explore what it means to be human.
Using anthropology, foreign languages, international studies and religious studies, we investigate the depth and breadth of the human experience so we can address the challenges we face as global citizens. Our programs begin with basic questions about humanity: Who are we? Where did we come from? What do we believe? How do we communicate and negotiate meaning? What is our responsibility as world citizens?
Learn more about the value of a degree in a World Studies program.
News
Sept. 20, 2023
Citizenship class at the Virginia Museum of History & Culture helps forge a path to this year's ceremony at the Siegel Center.
Sept. 20, 2023
Building on an overseas tradition, a VCUarts and humanities team is creating engaging local play spaces where children won't hear the common refrains "Don't touch" or "Get down."
Sept. 18, 2023
At the Constitution Day ceremony on Monday, American pride was reflected in personal journeys and an embrace of diversity.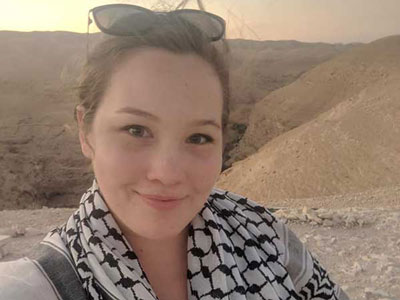 Meet Kristina
Kristina Donnally wanted to be an archaeologist ever since second grade when she visited the Ancient Egypt exhibit at the Smithsonian. Visit our 'Meet a Student' page to read more about Kristina, including the internships in our Virtual Curation Lab and on an excavation site in Israel that inspired her studies.