Why World Studies?
In the School of World Studies we explore what it means to be human.
Using anthropology, foreign languages, international studies and religious studies, we investigate the depth and breadth of the human experience so we can address the challenges we face as global citizens. Our programs begin with basic questions about humanity: Who are we? Where did we come from? What do we believe? How do we communicate and negotiate meaning? What is our responsibility as world citizens?
Learn more about the value of a degree in a World Studies program.
News
March 6, 2023
Ferguson, a student in VCU's Spanish-English Translation Interpretation Certificate program, says it feels "meaningful and rewarding to be able to put my abilities to use in a way that helps people and helps to maintain the integrity of our legal system."
Feb. 2, 2023
"The incubator will soon become a model for future research collaborations across the university," said Cristina Stanciu, Ph.D., director of the Humanities Research Center.
March 10, 2022
Studies at VCU helped lay the foundation for the work Kelly Nguyen hopes to do with the U.S. foreign service.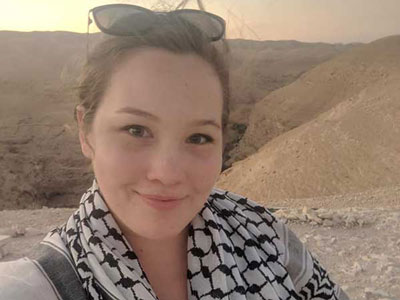 Meet Kristina
Kristina Donnally wanted to be an archaeologist ever since second grade when she visited the Ancient Egypt exhibit at the Smithsonian. Visit our 'Meet a Student' page to read more about Kristina, including the internships in our Virtual Curation Lab and on an excavation site in Israel that inspired her studies.