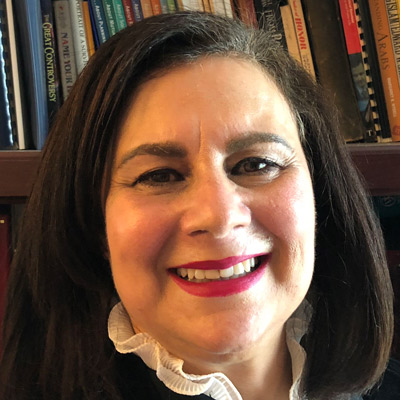 Mayda Topoushian, Ph.D.
Teaching Assistant Professor
international studies
Education
Ph.D., Concordia University, Montréal, 2002
M.A., Ohio University, 1988
B.A., Lebanese University, Beirut, 1982
Bio
Dr. Mayda Topoushian received her doctorate in communication studies from Concordia University (Montréal, Canada), her M.A. in international affairs (Middle East and Africa) from Ohio University (Athens, Ohio) and her B.A. in journalism from the Lebanese University (Beirut, Lebanon). She is Armenian, Lebanese, Canadian and U.S. national… She is a world citizen. She is fluent in English, Arabic and Armenian, and conversant in French and Turkish.
Dr. Topoushian is a media studies specialist and an assistant teaching professor of international studies. She teaches courses on globalization, international and U.S. media coverage of the Middle East and North Africa (MENA), governments and politics of the Middle East, gender, hip-hop, sexuality and resistance in the MENA region and cross-cultural communication.
As a researcher, she is primarily interested in globalization, politics, media, culture, refugees, human rights, social justice, gender and vulnerable populations in the MENA. Her work is focused on the emerging globalization of new/social media (internet, satellite TV, Facebook, Twitter, blogging and texting) on Arab women identity, and on challenges to human security in the Arab world: the state, religious diversity, legitimacy and human rights.
As a member of the VCU Middle East North Africa Regional Strategy Team (MENA RST) of the VCU Provost's Global Advisory Network to advance internationalization at VCU, Dr. Topoushian spearheaded and collaborated with the VCU Global Education Office to build bridges between VCU and various educational institutions in the MENA.
Dr. Topoushian is committed to help her students and colleagues to:
Build cross-cultural bridges across the Middle East and North Africa
Break barriers and forge leadership by learning, discussing and thinking globally
Engage in virtual classroom diplomacy
Become inter-culturally competent global citizens
Develop genuine understanding and empathy to see the world from other peoples' perspectives
Gain experience in activism, power and empowerment
Identify opportunities for VCU students and faculty to participate in experiential/service learning and volunteering with NGOs and civil societies
Help VCU students develop critical skills needed for a 21st century job market
Enhance and inform teaching about MENA across disciplines
Advance inclusive, diverse and informed perspectives on MENA research and developments
Promote empathy, respect, diversity and inclusion of cultural competencies in and outside our classrooms