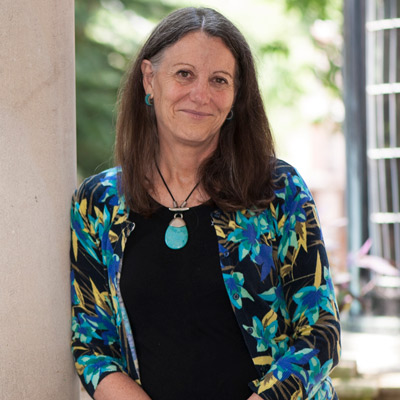 Kathryn Murphy-Judy, Ph.D.
Professor
foreign language
french
Education
Ph.D., University of Minnesota, 1986
M.A., Colorado State University
B.A., Colorado State University
Bio
Dr. Murphy-Judy is currently Professor of French in the VCU School of World Studies, where she instructs all levels of French and teaches Francophone media and, occasionally, the graduate level Methods of Teaching Foreign Languages for the VCU School of Education. She led the team that created the degree program, Liberal Studies for Early and Elementary Education; she was its first Director and resumed the directorship in 2014 until its closure in 2021. She has received numerous awards for her teaching, service, and scholarship, notably the CHS Awards for service and mentoring and the FLAVA Distinguished Service Award.
Dr. Murphy-Judy been at VCU since 1994. She has held teaching positions at the University of Arizona, the University of Saint Thomas (MN), and Carnegie Mellon University. She was also lectrice at the Université de Pau et des pays de l'Adour in France. Murphy-Judy led a group from Minnesota Studies in International Development to Morocco and wrote education policy for Colombia, S.A., as part of the Fulbright Scholar program.
Kathryn Murphy-Judy began in academe in French language and literature. Her dissertation focused on the semiosis of "Hailas" in the Roman de Flamenca, a Provençal romance of the XIII Century. Besides discovering the delightfully subversive story of a sequestered woman who uses ambiguity and double entendre to free herself, Murphy-Judy investigated communicational volatility at the threshold between orality and literacy. That "moment charnière" resembles our current age as we pass from from print literacy to multi(im)mediacy."
Always interested in how language, technology, and culture function to create and transmit meaning, she focuses her teaching practice on how a learner can go from having no working capacity in a second language to effectively and culturally appropriately communicating in that idiom. She is especially strong in computer assisted language learning (CALL) and online language learning (OLL). Currently, she is expanding that work into open educational resources (OER) that she co-creates with students for a VCU R.E.A.L. language education.
Her books include:
Language Teaching Online: A Guide for Designing, Developing, and Delivering Online, Blended, and Flipped Language Courses, with V. Russell. Routledge: New York, NY. (July, 2020)
L'Atelier RÉEL, Intermediate French open educational resource (OER) eTextbook. (Beta-version with student R&D)
She has been an editor for:
Special Issue Languages and International Studies #25 (Guest Editor, June 2021)
Training and Developing Technology Proficient L2 Teachers, co-edited with M. Kassen, R. Lavine, M. Peters. Computer-assisted Language Instruction Consortium (CALICO) Monograph, vol. #6. San Marcos, TX: Computer Assisted Language Instruction Consortium, 2007
Nexus: The Convergence of Research and Teaching through Technology, CALICO Monograph vol. #4, Durham, N.C.: Duke University, 1997
And translated:
Oral Poetry, an Introduction by P. Zumthor, translated by K. Murphy-Judy. University of Minnesota Press, Theory and History of Literature Series, 1990
She has also written many articles and chapters that range from medieval literary study, to second language acquisition to new technologies and media in education. Her productivity includes websites (one of the first in the world in French language learning in 1996), multimedia, videos, podcasts, and virtual interactive lessons. She routinely gives presentations and papers, serves on panels, and designs and offers workshops primarily on technology enhanced language teaching in North America, Africa, Asia, Europe and South America. She has written and been awarded several grants and been co-PI on many more. Currently she has a VIVA grant to co-produce OER e-textbooks for world languages with VCU, Reynolds Community College and the University of Mary Washington.
Dr. Murphy-Judy has held leadership positions in CALICO (Board Member and currently Secretary, FLAVA (President, currently Treasurer), ACTFL (currently DL SIG chair) and is a member of the AATF, IALLT, MAALLT, MLA, and WIF. She is an editor for MERLOT. In Virginia, she has participated in the Dual Language Immersion writing group and in other VDOE language initiatives. At the moment, she is a founding member of Global Virginia, a statewide initiative to increase global capacity in the Commonwealth across all sectors of activity.
At VCU, she has been the Faculty Senate President, Faculty Representative to the Board of Visitors, President of the CHS Faculty Council, among many other leadership and collaborative roles. She is proud to have been in the first cohort of the VCU Recruitment Inclusive Champions (RIC) and to graduate from the Grace E. Harris Educational Leadership Institute.
She is the proud mother of two adult children and grandmother to a most perfect granddaughter. She swims, walks and practices yoga frequently.