Meet an Alum: Ithar Hassan
June 8, 2023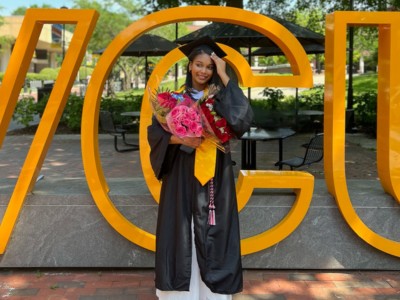 In the heart of Richmond, Ithar Hassan found her calling at Virginia Commonwealth University's School of World Studies. The International Studies program, renowned for its robust and diverse curriculum, played a crucial role in shaping her career in global politics.
Hassan's journey began in a small Northern Virginia town, where she nurtured a keen interest in international studies and politics. "When I stepped on the VCU campus for the first time, I felt like I found my new home," Hassan said, recalling her high school days visiting prospective colleges. Her decision to join VCU was influenced by the welcoming atmosphere and diverse community she experienced on her first visit.
Hassan's passion for international studies was fueled by her family's history. As immigrants from Sudan, their experiences in the country inspired her to delve deeper into global politics. She said, "The developments out of Sudan over the past several years have only furthered my desire to be educated in the ongoing dynamics of the world."
The International Studies program at VCU provided Hassan with the opportunity to explore a wide range of topics. Her coursework spanned from the Arab Spring to secularization issues and conflicts like those between Palestine and Israel. She found the program's interconnected approach to these topics particularly enriching, saying, "This makes it that much more exciting to explore new angles and connections."
Hassan didn't limit her learning to the classroom. She actively participated in local politics, interning with the Democratic Party of Virginia. This experience allowed her to engage young voters and educate them about their rights, which she considered "the highlight of my college career."
Hassan's journey at VCU wasn't without challenges. The COVID-19 pandemic brought a wave of self-doubt. But she found strength in her professors' dedication to innovative teaching and their unwavering support, which helped her stay on track. She reflected, "I was able to rediscover my interests. Through their efforts, I felt less out of place and more comfortable to share my thoughts and opinions on important issues."
Now an incoming law student at American University's Washington College of Law, Hassan plans to use her International Studies degree to pursue a career in international law. She believes the program equipped her with the necessary skills and knowledge to effect real change in the world of diplomacy.
Hassan's advice to prospective students considering a degree in International Studies is to remain curious and informed about international headlines. "Remaining inquisitive is key to this field of study," she said. "Take advantage of the broader perspectives you are being provided with because it is people like you and me who will have the opportunity to engage in these challenging issues."