Meet an alum: Kahin Adam
April 27, 2020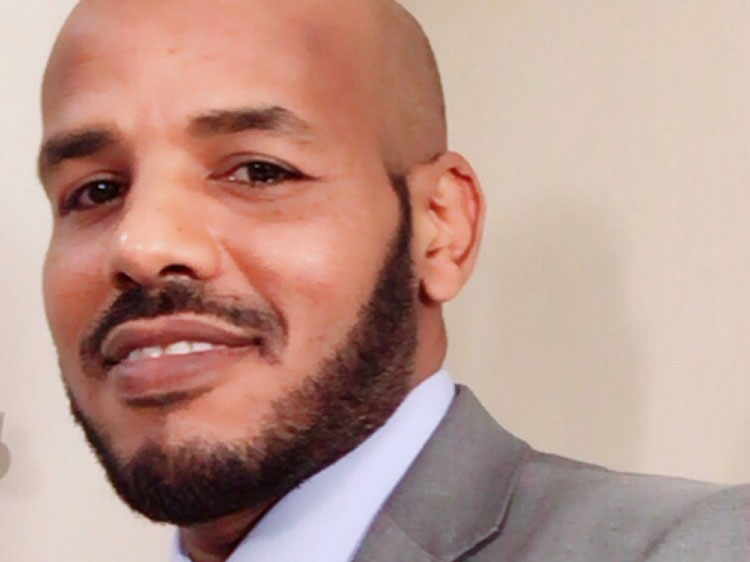 What are you doing now?
I work at CenterCare as a community health specialist, which is one of the biggest health centers in the area here in St. Cloud, Minnesota. I work as a community health specialist, and am also involved in trauma informed care. I help individuals who have been traumatized by war and immigration and help refugees, immigrants, African American, Latino and Native Americans get access to community resources including medical needs, access to mental health resources and information on navigating the healthcare system. Our team also provides cultural competency educational information to help healthcare workers to become aware of how to work with non-English speakers. I also have training as a psychotherapist, and with my MPH degree, I've done research specifically focusing on the dynamics of mental health and stigma in refugee and immigrant communities.
How are you working with the community during the COVID-19 pandemic?
I am working on capacity-building in the community by helping the refugee and immigrant community create committees/taskforces to respond to COVID-19. Also, we are trying to connect local and ethnic-based restaurants to churches and mosques in order to tackle food insecurity during the pandemic outbreak. I am part of a trauma care informed team that has distributed food to 350 low income families in the St. Cloud area. In addition, since COVID-19 is creating a lot of mental health crises, I am going on local radio stations to go into communities and raise awareness of mental health issues. I make about five to 10 phone calls a day talking to community members checking up on their mental health and connecting the community to mental health resources in the area.
What year did you graduate from VCU and what was your major?
I graduated in 2009 with a double major in international studies, concentrating in global health and religious studies and went to graduate school at Columbia University.
What were your most memorable courses and teachers in the School of World Studies?
I learned the most from the Religious Studies department! They were all really good! My favorite classes included Introduction to Religion with Professor Daniel Smith. He brought Muslim Immam, Jewish Rabbis and Christian pastors, etc. to the class to help supplement. He wanted them to share their own story and narrative. I really learned a lot and gained a lot of respect for other religions and beliefs. I also learned a lot in HIV/AIDS in Africa with Christopher Brooks. It was my favorite global health class. It actually inspired me to build my own understanding of global issues and get a master's degree in public health and a master's degree in clinical mental health! I also enjoyed Italian Cinema with Bernardo Piciche. It was the reason why I moved to Italy! I discovered a love for Italian culture! I actually learned a lot of stuff in that class outside of cinema that I use for clients in psychotherapy. I also loved Nature and Human Spirituality taught by Mark Wood. We would go outside of the city in the mountains and talk about how people relate and connect to the environment. It was a cool mix of religion and science. It was amazing! I learned a lot.
Can you recount your favorite memory while you were a student in the School of World Studies?
The teachers, academic advisers and university staff were very supportive and friendly. I would always go to Professor Jessica Lonnes. She would always be there to help me and she was always there for me, even when she was busy and doing a lot of work she would stop and help me. Dr. Piciche has been supportive through the years and wrote recommendation letters to the Oxfam Change leaders program and also grad school to Columbia University. Micol Hutchison is another professor who has been supportive through the years and always encourages me to dream big. The SWS created a safe environment and safe space that assured me no matter what happens to me, I have people who are supporting me and always here for me.
What is the best part of the School of World Studies?
The SWS cares about their students! I never had a problem reaching out to my teachers, and every one of them that I reached out to were very kind and understanding and accommodating. Especially as a refugee from Somalia, I started at VCU without even knowing how to speak English (started in the ESL program). VCU was very competent and understanding at acclimating me - especially in the SWS and the International Students Program. I never felt that I was an outsider; they were always supportive and encouraged me.
How did being a student in the School of World Studies help you with your career?
My Italian cinema class with Dr. Piciche actually helped a lot for psychotherapy. I learned therapeutic skills from Italian neorealism and modernist films in the class. The Night Porter by Liliana Cavani especially presented meaningful insights on trauma and "Stockholm Syndrome." I gained lots of valuable tools in that class, and in fact in therapy I ask clients to make a video about their emotions. Although the global health classes were limited, it still inspired me to go back to school and get a master's degree in public health because the HIV/AIDs class made me realize the global health crisis and also became aware of global mental health and illness. It was the first time I was exposed to global health with statistics and I really enjoyed it.
What advice do you have for the students in the School of World Studies?
Don't limit yourself and don't feel comfortable where you are. Go outside of your comfort zone. Dream bigger and be curious. Try to get outside internships everywhere–outside of Richmond, Washington, D.C., Europe, Africa. Find a way to enrich your mind and to build your human capacity. Go everywhere with open and pure intention. Those you encounter all the way will appreciate that. Ask yourself what do you want to leave behind. What's your legacy? How do you want people to remember you? Travel—it will change your life and help your résumé and applications for grad school. It will look good that you've traveled and can speak different languages and understand different cultures. We live in a global world and everything affects us, don't limit yourself! It is important to get a high GPA but at the end of the day, GPA is NOT everything. When you apply for grad school or a job, they look at everything—what have you done for the community, what languages you speak, experience working in diverse communities, have you worked outside of the U.S. Ask yourself: Do you have the skills to solve complex global issues? And, work on creating a good résumé that can make you marketable outside of just your GPA.